Technology
Although mucosal healing is the desired long-term outcome of IBD therapy, the majority of available treatment options controls disease symptoms by targeting the immune system rather than the epithelium. Yet, this strategy is still to be exploited in the clinic due to the lack of drugs that specifically target the intestinal epithelial wall without potentially initiating/promoting cancer. Our findings in vivo identify the intestinal epithelial insulin receptor as such a novel targeting candidate.
EnteroTarget's technology relies on the administration of insulin to the lumen of the colon by either rectal administration or by oral administration in a delayed release form.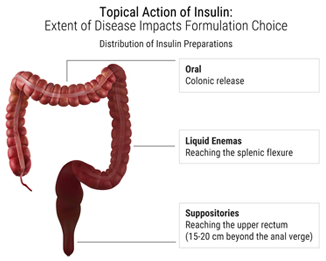 The main unique advantage is that rectal insulin therapy achieves an anti-inflammatory effect by targeting the epithelial cells rather than the immune cells and can thus synergize with existing IBD therapies. Another advantage is that topical insulin administration acts locally at the site of disease, and thus reduces the risk of any undesired systemic side effects. Moreover, the pharmacological properties of human insulin are already well-known and insulin can be self-administered which is more convenient for the patients, thus reducing costs related to hospitalization and improving quality of life and flexibility for the patients.